(Click on images to see them full size)

Pirate Museum & Village, Black Market Bazaar!
Aaarrh, walk the decks of this old pirate ship to the sound of sea shanties! The museum has exhibits on all things pirate! Then wander around the pirate village with inn, ship supplies and hardtack bakery.  A bit further is the black market bazaar for all of your duty free contraband and legal items.

TIKI BEACH CLUB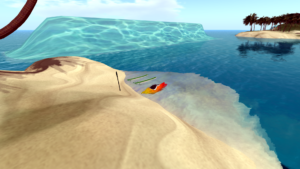 Surfzone
Surf or Kayak Surf the entire length of a 3 region wave (if you can!).  There is also a wave on the other side of the Pirate museum that will land you on Tiki Beach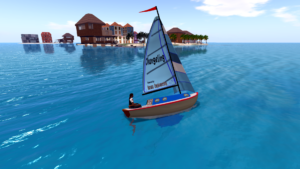 Sailing Center
Head to Harbor Island and check out a sailboat. The Tradewinds that kiss the atoll make for good sailing and a way to sightsee all of the islands.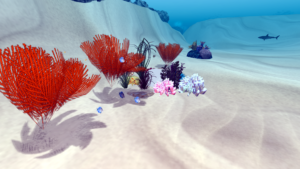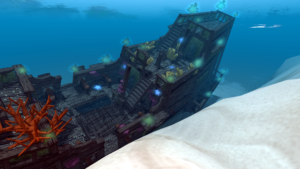 Lost Resort Reef Diving
Experience the tranquil world of the undersea kingdom, and search for treasure aboard the sunken pirate vessel.  If the reef shark threatens you, just tell him that you're a lawyer.
It is also possible to "snorkel walk" the volcanic reef ridge that connects the islands of the atoll for sightseeing sea hike.
Niles Island Movie Studio Tour
Take a tour of the Subterranean Orchard Media™ Machinima Movie Studio on Niles Island.  Self guided tours are available when filming is not in progress.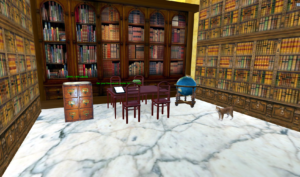 New Tortuga Library
If the islands ever sink, it will be due to the atollian's love of books. This Library also serves the Institute classrooms next door. Come by and get your free Project Gutenberg reader and HUD.
Church of Sts. Theophan & Benedict
The local monastery of the Khaitani Orthodox Church uses this oratory that honors saints both East and West. Click on the kliros (chanter stand) on the right to hear traditional chant of several styles. You can also ring the bells!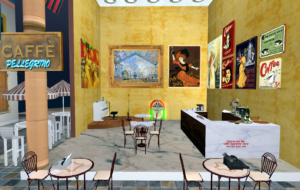 Caffe Pellegrino
A caffeinated bohemian hangout with live poetry, performance and music. This is the hotspot on New Tortuga Square.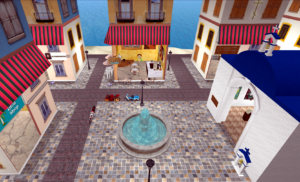 New Tortuga Square
The square is where the action is, if its not on the beach. The Atoll Shop is now open with freebies for all!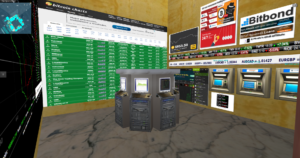 New Tortuga Exchange
The trading floor deals with foreign exchanges, including currencies made for freedom. There is an ATM if you need cash for shopping!  You can buy sell or exchange podex currencies and get Digitz for shopping on the Atoll.  You can also buy or sell Bitcoin or even digital or physical gold! You can also get anonymous trading accounts for several functions, and get or make bitcoin loans.  Some of these functions are also available on this page.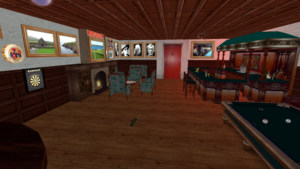 The Celidh House Pub
A sweet spot for Irish folk, jigs and reels, a pint of Guinness or a quality dram. This pub evokes homesickness for a different island!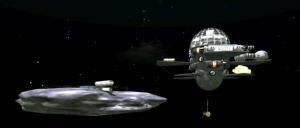 Orbital Base
Teleport to the space station in development with hotel, trading post, diner and future venues as well as some cool intergalactic vessels. The giant asteroid base is in development next door.