Pirate's Atoll Build/Consulting
See The Atoll Shop page for virtual goods or hosting. We can help you with hosting for your 3D or 2D brand!
Some examples of what I can build or coordinate for you:
Custom photo-realistic textures
Prim Web Media (and hosting!)
Bar/Club Items
Event planning & marketing
Machinima/Web Video and other Media Production

Conference Rooms / Offices
Low Prim Objects & Mesh
Outsourcing Project Coordination
In-world training
Second Life taught me to make things that are low prim and high graphics. Opensimulator is teaching me about ignoring limits, mesh, modifying existing objects and scripts that don't slow the server down (too much!).  I still focus on simple objects with photo-realistic textures.
You can see my builds (and grab some freebies) on Pirate's Atoll. You can IM me or leave me a notecard message there as well. I am available to meet on Pirate's Atoll in my office in the John Simmons HyperText building.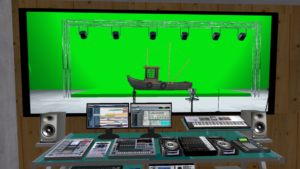 For builds in YrGrid or other grids, Just IM strannik zipper in-world, or use the form below: